Listen And Learn English Consonants Pronunciation Course
📝 Author: Andrew
📅 Published:
💬 1329 words ⏳ Reading Time 7 min
You'll Be Speaking Like A Native In No Time.
A comprehensive English pronunciation course that helps you with all your consonant pronunciation problems.
Improve your English consonants pronunciation using the same Listen & Learn system you love in our podcasts.
It's the pronunciation course you've been asking us for.
We've done the research, so you can spend your precious time focused on fixing your pronunciation problems.
As always, the course is great value, a professional course at a fraction of the price of classroom lessons.
You learn English pronunciation naturally, the way you learned your own language, and how your brain wants you to learn!
We know English consonant pronunciation is difficult!
It's the most important part of clear communication...

You might come from a language that doesn't even have some English consonants.
All the crazy and inconsistent English pronunciation rules.
Where do you start? We help show you where you need to focus your pronunciation learning efforts.
You just need someone to help you with communication clarity, polishing your pronunciation.
What we do...
A powerful and complete Listen & Learn pronunciation course that delivers results.

First, we explain what the correct pronunciation is and any tricky rules you need to know about.
We highlight all the common pronunciation difficulties.
Finally, we provide you with lots of practical Listen & Learn ways to help fix the problem.
Start improving your pronunciation today...
Join us and the millions of English language students learning to speak English fluently using our popular "Listen & Learn" learning system.
Click the red BUY NOW button bellow and you will start improving your English pronunciation now.
You want to know more?
Why we created "Listen And Learn English Consonants Pronunciation Course"...

Improve your pronunciation no matter how hard it seems.
Address all your consonant pronunciation issues.
Solve problems connected with mispronunciation once and for all.
Show how to train your ear and pronounce words properly.
There are many benefits to the Adept English system of learning
| | Advantages | | More Advantages |
| --- | --- | --- | --- |
| 🐶 | Its a very different teaching method, better than traditional language courses. | 🐘 | The method is based on the functioning of the brain so it works with your brain, not against it! |
| 🦍 | You start 'thinking in English' first, so speaking in English is much easier. | 🐿️ | It works for everyone, you learn English like a child learning their first language. |
| 🦓 | The system helps you leverage your basic knowledge of the English language, and quickly become fluent. | 🦔 | The method stops you translating from English into your own language and back again. |
| 🐪 | This approach to learning is not hard work – and in fact, learning this way is enjoyable. | 🍰 | When you pay for the course it will arrive immediately in your email in-box. You can download the course and start straight away. |
What do I get when I buy the consonants pronunciation course?
The course includes...

Whether you're an experienced professional or new to speaking English, this course will help you sound confident, feel confident and communicate effectively in English.
The course is an audio book which makes listening on your mobile phone easy
The transcripts are e-books which you can read on Apple Books or Android e-pub readers
Over 18 chapters of practical pronunciation help
A comprehensive pronunciation course that covers all the consonants pronunciation problem areas
BONUS Material You also get to practice your Vowel pronunciation
Full transcripts and practical voice practice lessons
Unique, interesting, high quality audio lessons you can listen to over and over again
How do you listen to Audio Books?
Use a free audio book player like Apple Books or VLC Audio book player for Android, we've got easy to use links to get you started here.
We recommend Apple Books for MacOS but you can also use the free VLC Audiobook player.
A mobile friendly e-book to support the audio book
Click on this link to see a sample of the course e-book, that comes with this course.
This book contains transcripts of every conversation. A helping hand with lots of explanations and support to help you get the most out of your new English language learning course.
Listen to a sample of the course audio book
A happy customer...
An e-mail from one of our happy customers...


Dear Hilary

Today i had a job interview with a big global company and this job would mean I will need my English all the time. The interview was in Spanish, but partway through they asked me if I could continue in English! And guess what… I did and it was great…they were very happy with that!!  

All that time I spent learning English each day via your courses has helped make a difference. Adept English is now really helping my career! 

Thank you so much!!! 

⭐ Miguel - Engineer
97.2% of our customers love the courses they buy.
We added up all of our sales and the number of returns people have asked for over the last 5 years and we are pleased to say 97.2% of them were happy with the product they bought from us. (26th Feb 2017 to 1st May 2022)
Facebook aka Meta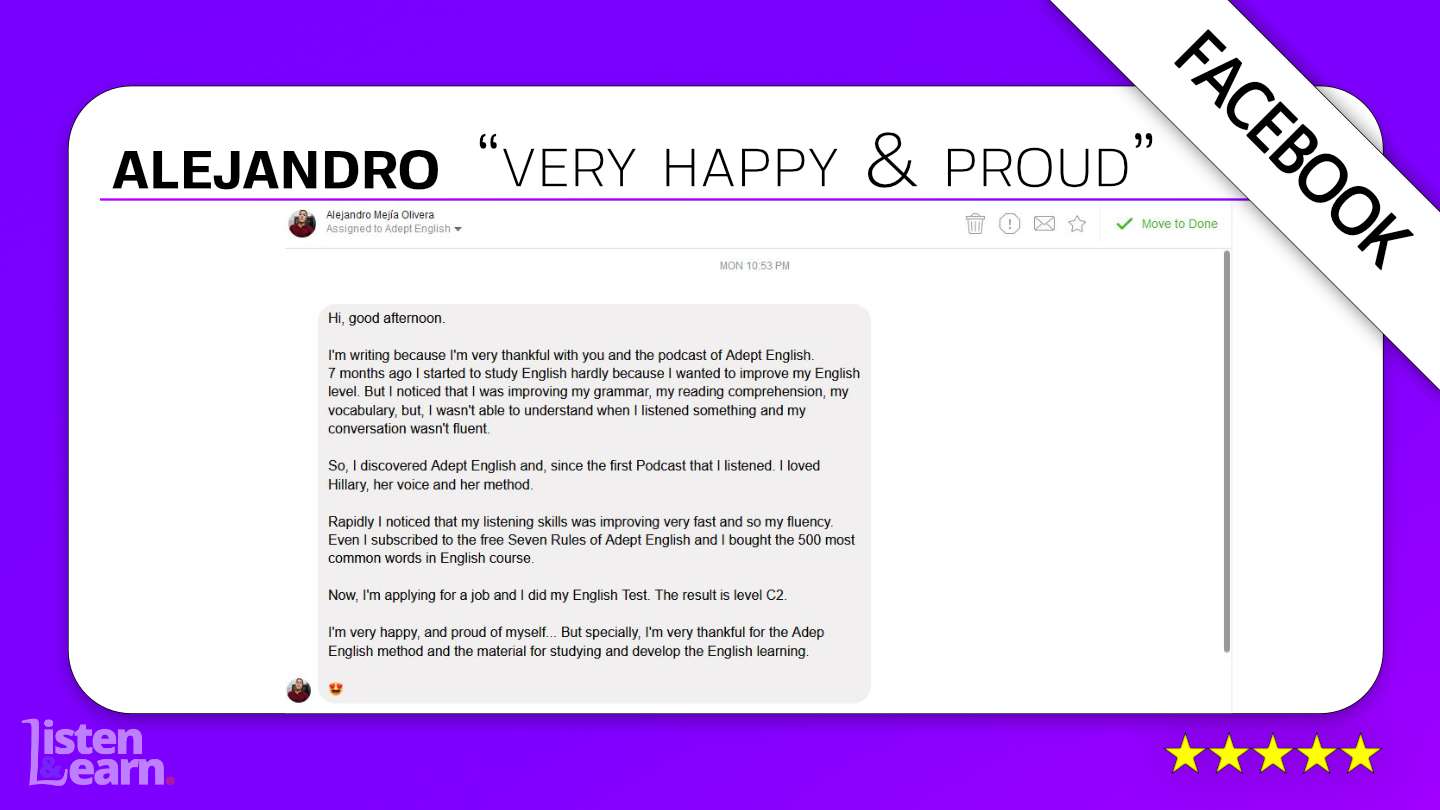 30 Day Guarantee
We give you a great 30 day money back guarantee. You can learn more about that here, in summary; "If you don't like what you bought just ask and we will refund your purchase."
Even More...
Great news for you! We decided to include MORE FREE Bonus Material in the ​"Listen & Learn English Consonants Pronunciation" course. You will get an English pronunciation chapter which introduces you to English VOWEL pronunciation.
Bonus Material: Tough Words to Pronounce - "OUGH"
Get it today
Start Improving your spoken English today click on the red BUY NOW button and download your course in minutes.
P.S. One last thing to think about…
We know taking the first step is always hard!
Ask yourself this question: Will improving my English pronunciation really make a difference for me?
If the answer is yes then do not miss out on the opportunity to level up your English pronunciation using our complete and effective listen and learn English consonants pronunciation course