Activate Your Listening Course
📝 Author: Hilary
📅 Published:
🎈 Updated On:
💬 2035 words ▪️ ⏳ Reading Time 11 min
▪️ 🎧 Listen to Lesson
A Course Focused On Helping You Speak English
A full English language audio course designed to help you with speaking English fluently. Get help improving your spoken English today with our hugely popular English course.
Improve your spoken English with our great audio course
The Problem With Traditional English Lessons...
They just don't spend enough time on SPEAKING English & LISTENING to English.

A typical scenario is you can read and write in English, but now you want to become fluent in English. The problem is when you look for people to help you on this stage of learning English, nearly all the English teachers/courses you've looked at spend 80% of your time on English reading, English writing, English grammar and English vocabulary and less than 20% of the lesson on SPEAKING English & LISTENING to English!
You want to focus on the speaking part of learning English, if you stick with traditional English learning approaches you will make very slow progress.
What we do...
We are 100% focused on the speaking and listening part of the English language

We will help you to learn to speak English fluently by spending 100% of your time listening to native English speakers.
No books, no reading, no writing in English. No lists of vocabulary, no grammar. Just high quality, interesting audio lessons, which you listen to.
The Adept English Language Course "Activate Your Listening"
Are you one of these people?

Do you know some English already? Maybe from school or a recent course?
Are you struggling to speak out & join in conversations? Does real world English seem way too fast?
Have you already tried traditional courses, and it has not made a difference? Or maybe you can't because they are too expensive!
You know life would be better if you could speak English fluently
You have done everything you are supposed to do to learn to speak English, but it is not getting better, and you don't know why!
We can help! Your brain is missing some essential training!
Start today...
Join millions of English language students learning to speak English using our "Listen & Learn" system of learning.
Click on the red BUY NOW button and you could be improving your English fluency today.
You want to know more?
Activate your listening is a different way to learn to speak English fluently

Course One consists of over 5 hours of high quality lessons spread across 24 audio files.
Every audio file has a full transcript so you do not have to translate anything.
The lessons are grouped into interesting articles, covering lots of topics and using native English speakers in the recordings.
The Adept English method of learning encourages you to learn through listening, so you can learn commuting to work. Sitting in the sun. While you clean the house. Any dead time where you can wear some audio headphones will do.
Do You Find Yourself Saying...
I would like to speak English fluently and automatically
I can understand written English much better than spoken English
I've been learning English for years. I've tried lots of courses. Nothing has really worked
I can understand English only when it is spoken slowly and I know the context
I do not understand native English speakers.
Are you going to try something different?
Do you want to use your brain's existing way of learning language and learn English naturally, as a child would? You will be pleased that you did!
If this is YOU, Adept English is what you have been searching for!
What Exactly Is In The Course?
This is what you will get...

The 1st recording is an article on an interesting subject. Course One has Articles on 'The UK', 'Food' and 'Education'. You are introduced to the vocabulary slowly and clearly. The Articles are written with you, the English language learner in mind.
The 2nd recording explains the vocabulary, the words in the Article. It's like a 1-to-1 tutorial – as though we are both having a cup of tea and talking through the lesson together! If you listen to the Seven Rules of Adept English – this works Rule Five 'Nothing but English' – so we do the vocabulary, but all in English!
Then, in the 3rd recording you listen and read a story in which I use the same vocabulary, the same words and phrases, but in a different story, in a different context. You learn automatically through context in accordance with Adept English Rule Five. The stories usually are about two people called Sarah and George – you will get to know them!
Then in the 4th recording, there is a conversation between two, real English speakers. Sometimes there is 5th recording – an additional vocabulary MP3 to go with this – so another file in which I explain vocabulary in a tutorial format. These files are really, really important – they help you start to work with real-life English speakers in conversation. They help you with what most language learners find most difficult.
Finally for each group, there is a Pronunciation MP3 file where you listen and repeat aloud the important phrases to improve your pronunciation. This is where you join in – and we help those English phrases 'trip off your tongue'!
This is a link to an example of the supporting transcripts and course notes you get with every audio file in the course.
Listen to an example of what you will get in the course...
Happy customers
A message from one of our customers says...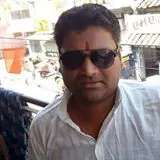 "Things got much better ..."

After learning English at school and doing some night classes to refresh my memory. I found I had remembered a lot of the vocabulary and grammar rules. But I couldn't speak a full sentence. I could understand some of the English on TV and Radio, but I could not keep up.

Things got much better after using your course. I can practice over and over while on the bus to and from work. I'm keeping up with TV programs and know this is the right way to learn to speak English.

⭐ Sandhya Chander - Software Program Manager, India
There are many benefits to the Adept English system of learning
| | Advantages | | More Advantages |
| --- | --- | --- | --- |
| 🐶 | Its a very different teaching method, better than traditional language courses. | 🐘 | The method is based on the functioning of the brain so it works with your brain, not against it! |
| 🦍 | You start 'thinking in English' first, so speaking in English is much easier. | 🐿️ | It works for everyone, you learn English like a child learning their first language. |
| 🦓 | The system helps you leverage your basic knowledge of the English language, and quickly become fluent. | 🦔 | The method stops you translating from English into your own language and back again. |
| 🐪 | This approach to learning is not hard work – and in fact, learning this way is enjoyable. | 🍰 | When you pay for the course it will arrive immediately in your email in-box. You can download the course and start straight away. |
What Are The Advantages Of An Audio Course?
You can listen to each recording as many times as you need to learn automatically. Through repetition you will learn the new words, automatically, without having to think about it. You can use the transcript to look up anything you still don't understand.
This also means you do not need to attend a language course. You don't need to be living in an English speaking country to be improving your English – every day!
The Adept English system of learning a language is very simple but very effective. Until you try it, it's hard to appreciate just how much faster you learn the language. it's so much more pleasurable than traditional learning.
Imagine, you will actually enjoy it! No lists of vocabulary, no learning the grammar rules. You do your learning in your own time – in the car, on the train, when you're walking, when you're cleaning your house, doing your washing.
Adept English learning method is the way you learned your first language, it is the way you should learn your second!
Hilary - Founder of Adept English
"I'm Hilary and I've been a language learner for many years. My first degree is in Latin – so I understand grammar very well – and this background means that my understanding of English grammar is excellent! But Latin is a 'dead language' and it seems to me that many courses teach modern languages as though they are 'dead' too. Consequently, like you, I have struggled to become fluent in a foreign language."

"But I've now built a method of learning language, which has made an enormous difference to me – and I want to share that with you. This method uses the way your brain naturally learns."

"This caught my attention because as well as being a language student, I have also worked as a psychotherapist for the last 16 years. The psychology of learning is of great interest to me and it could really help you too. Understanding how your brain learns language can really make a difference!"
We Like Happy Customers.
Nearly all of our customers are happy customers. When we looked at our sales and the number of returns people have asked for over the last 4 years and we so happy that 97.9% of them were happy with their purchase from us. (26th Feb 2017 to 1st Nov 2023)
Facebook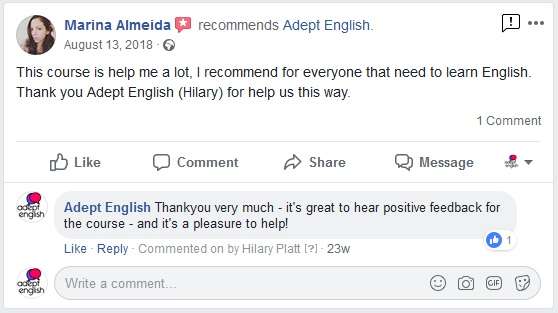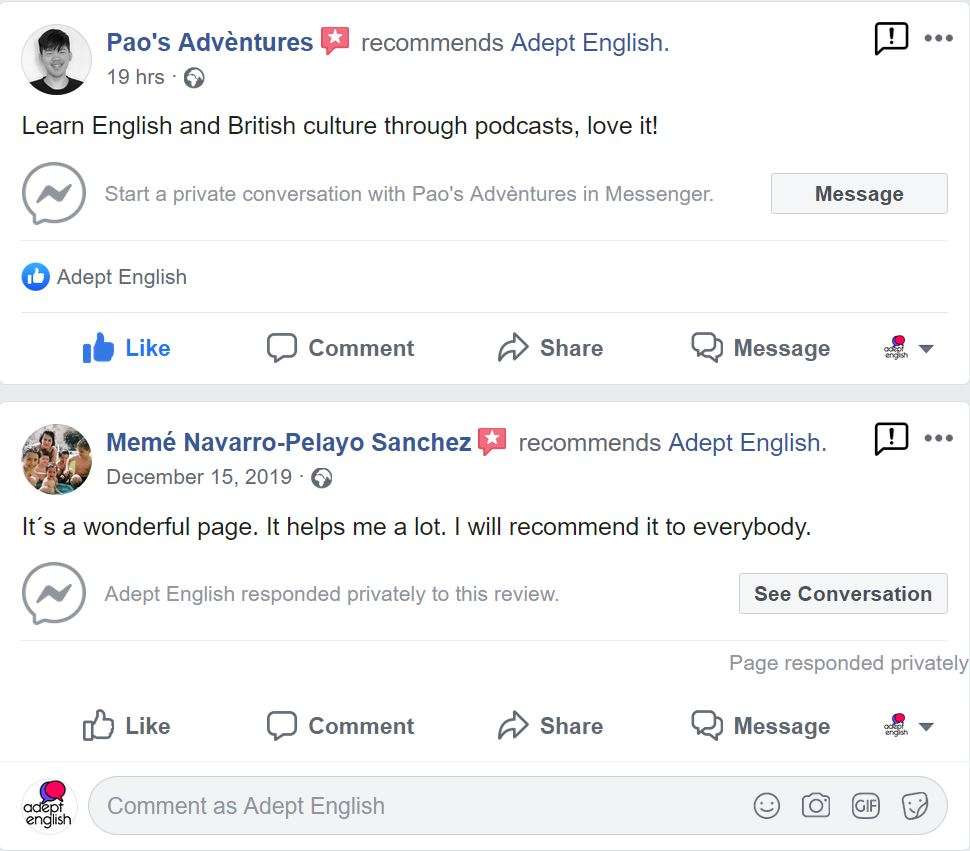 30 Day Guarantee
We give you a great 30 day money back guarantee. You can learn more about that here, in summary; "If you don't like what you bought just ask and we will refund your purchase."
Great news for you! We decided to include FREE Bonus Material in Course One
Course One also includes...
Article Zero – as a little extra for you. This is an article about language learning – and then a Vocabulary Recording to go with it. It discusses at length, why it is that most people find it difficult to succeed in speaking a foreign language fluently through traditional language courses.

Also included is a new improved and simplified version of the Seven Rules.
Start Improving Your Spoken English Today
Get the course today click on the red BUY NOW button and download your course in minutes.
P.S. One last thing…
We know the first step is always the hardest! Our way of learning really does focus on making things easy for you, our course will help you find time to learn and keep motivated.
Ask yourself Will learning to speak English really make a difference? If the answer is yes then do not miss out on the opportunity to learn English using our simple and effective language course.